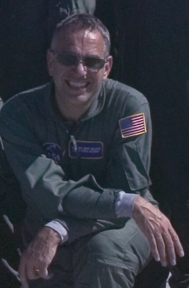 Dr. M. Geoff Mcharg,
US Air Force Academy
---

E-mail:
Homepage
Brief Biographical Information:
Dr. M. Geoff McHarg received his Ph.D. from the University of Alaska. He was apointed to the faculty of the US Airforce Academy. In 2003, the physics department established a new research center, the Space Physics and Atmospheric Research Center (SPARC). Dr. Geoff McHarg is the director.
Research:
USAFA research covers a wide variety of technical and non-technical topics of interest to the U.S. Air Force and other U.S. government agencies. USAFA research focuses on topics that faculty members believe will provide research opportunities for cadets while having an impact on the Air Force and our nation. SPARC members engage in three main activities: developing payloads for the Academy's small satellite program, applied plasma physics, and modeling upper atmospheric response to solar and space weather events.
Research on Hyperseed MAC:
High-framerate imaging and slit-less low-resolution spectroscopy to observe rapid light variations and phenomena in the wake of the sample return capsule, in an experiment with Prof. Hans Stenbaek-Nielsen. This work utilizes the same state-of-the-art high-speed imagers used in ongoing USAFA experiments.